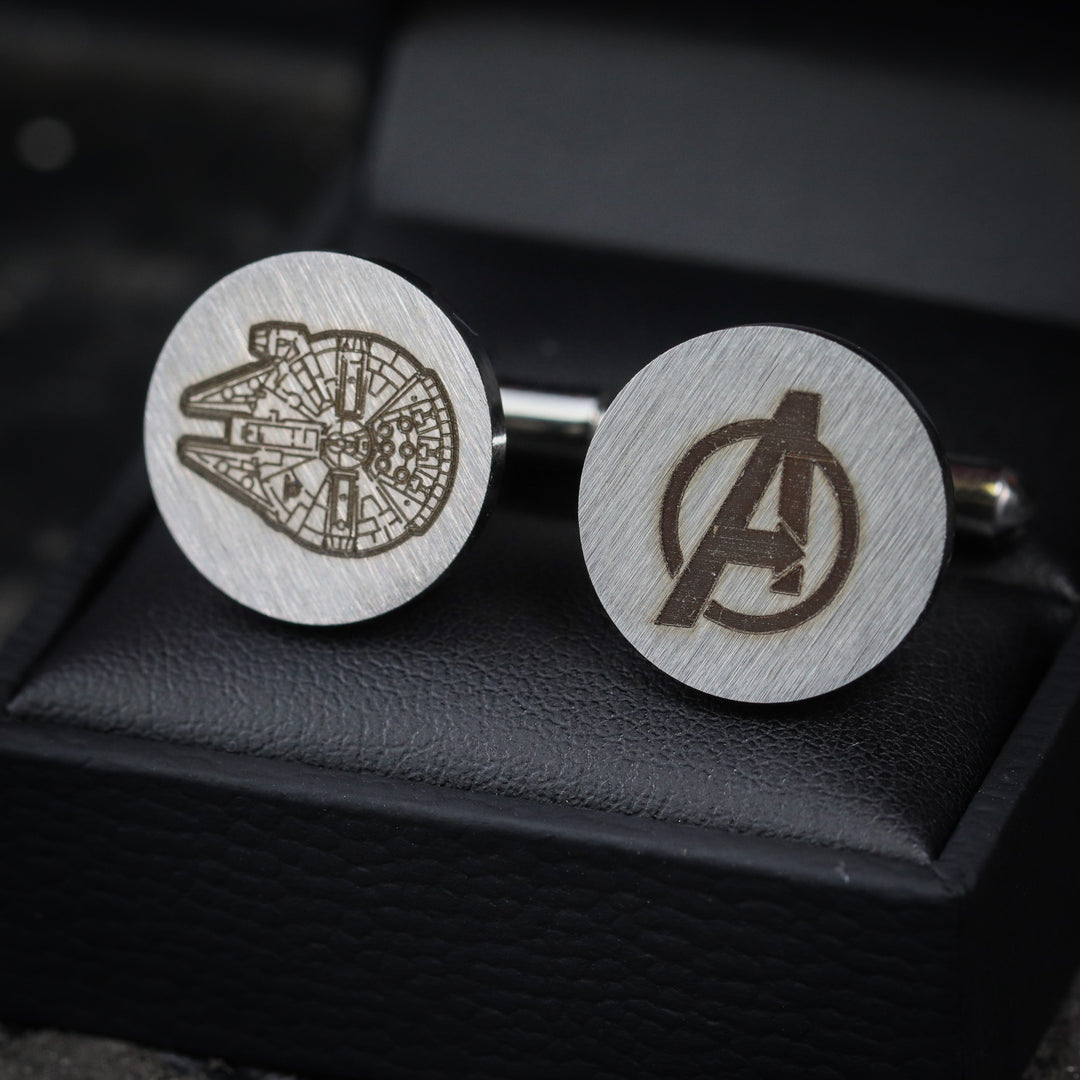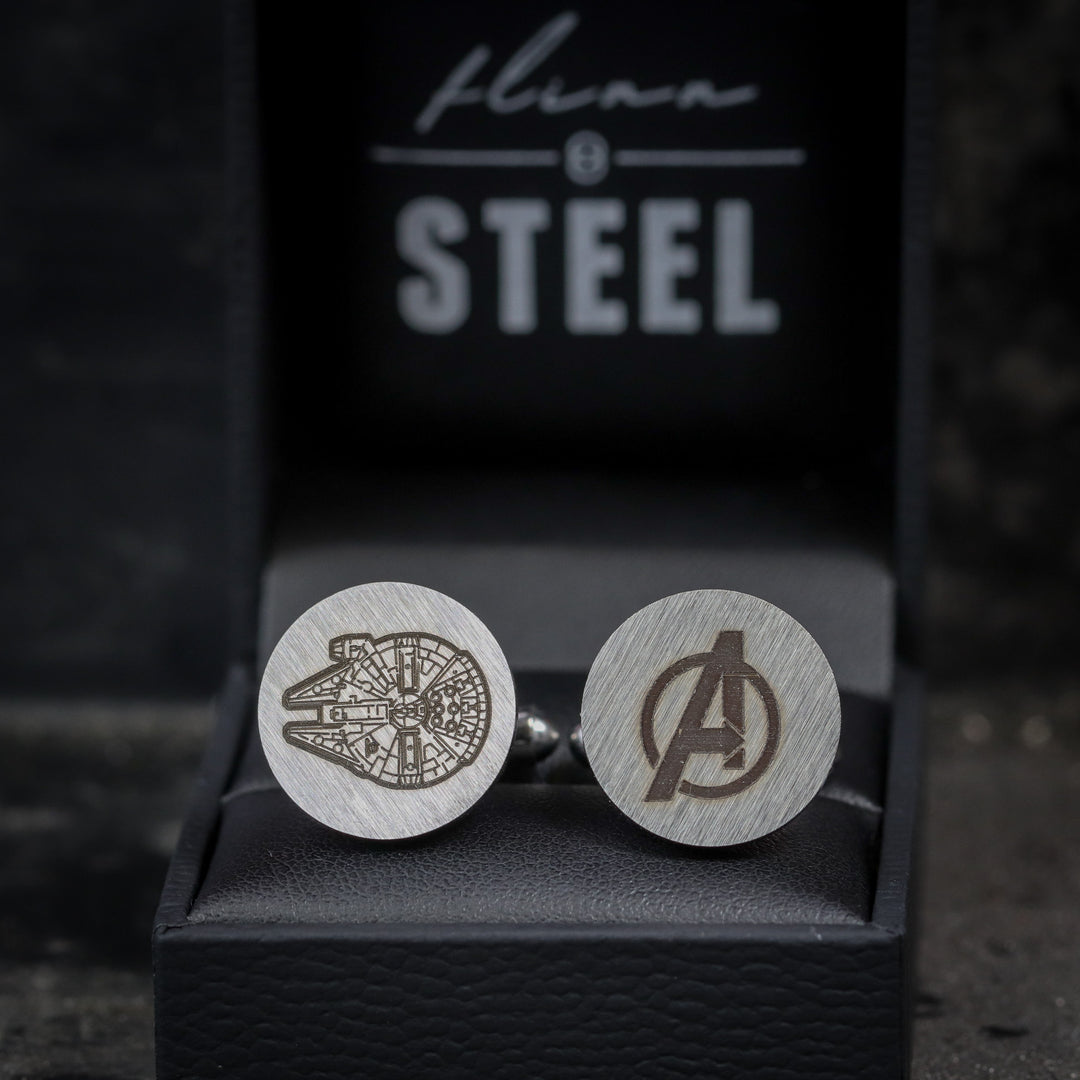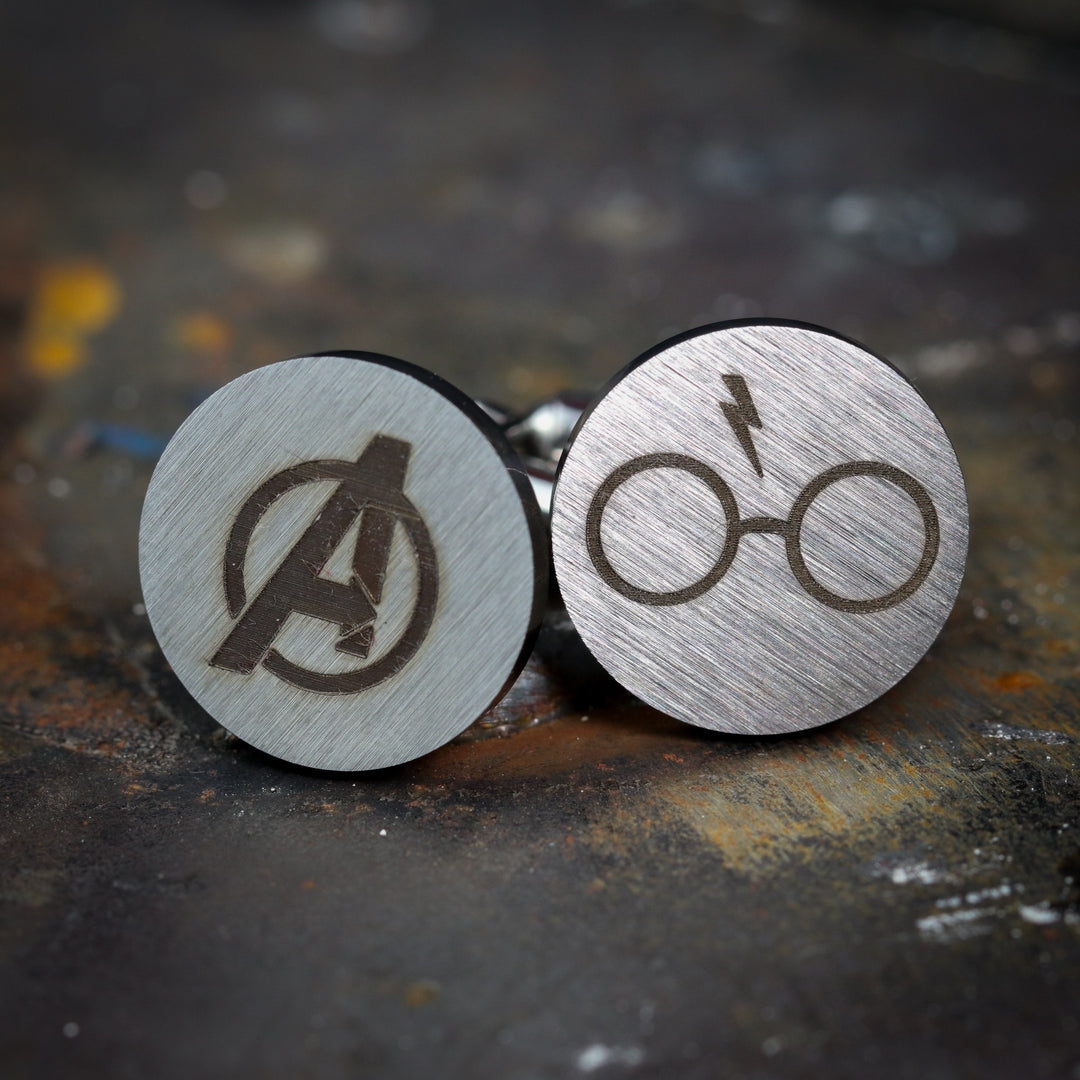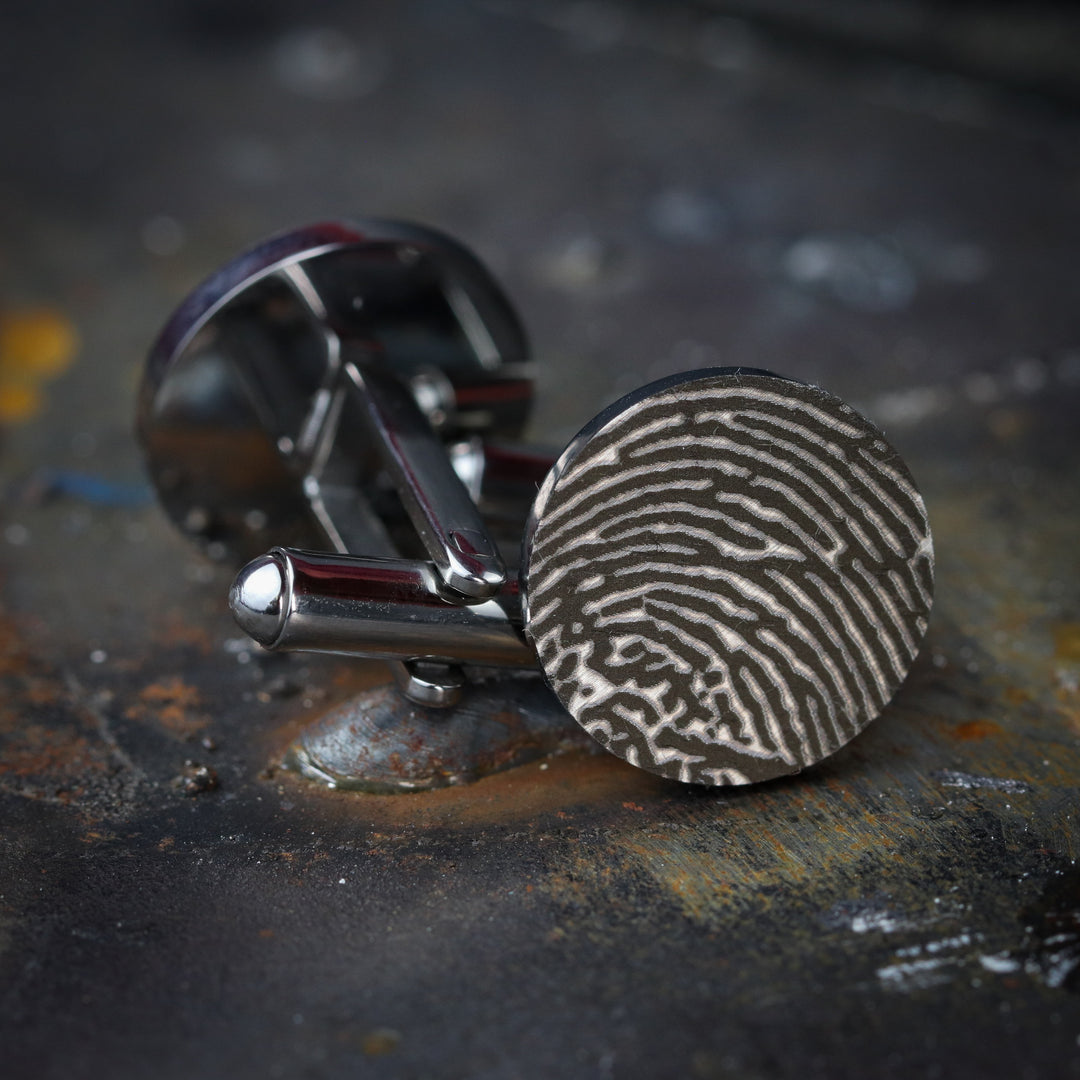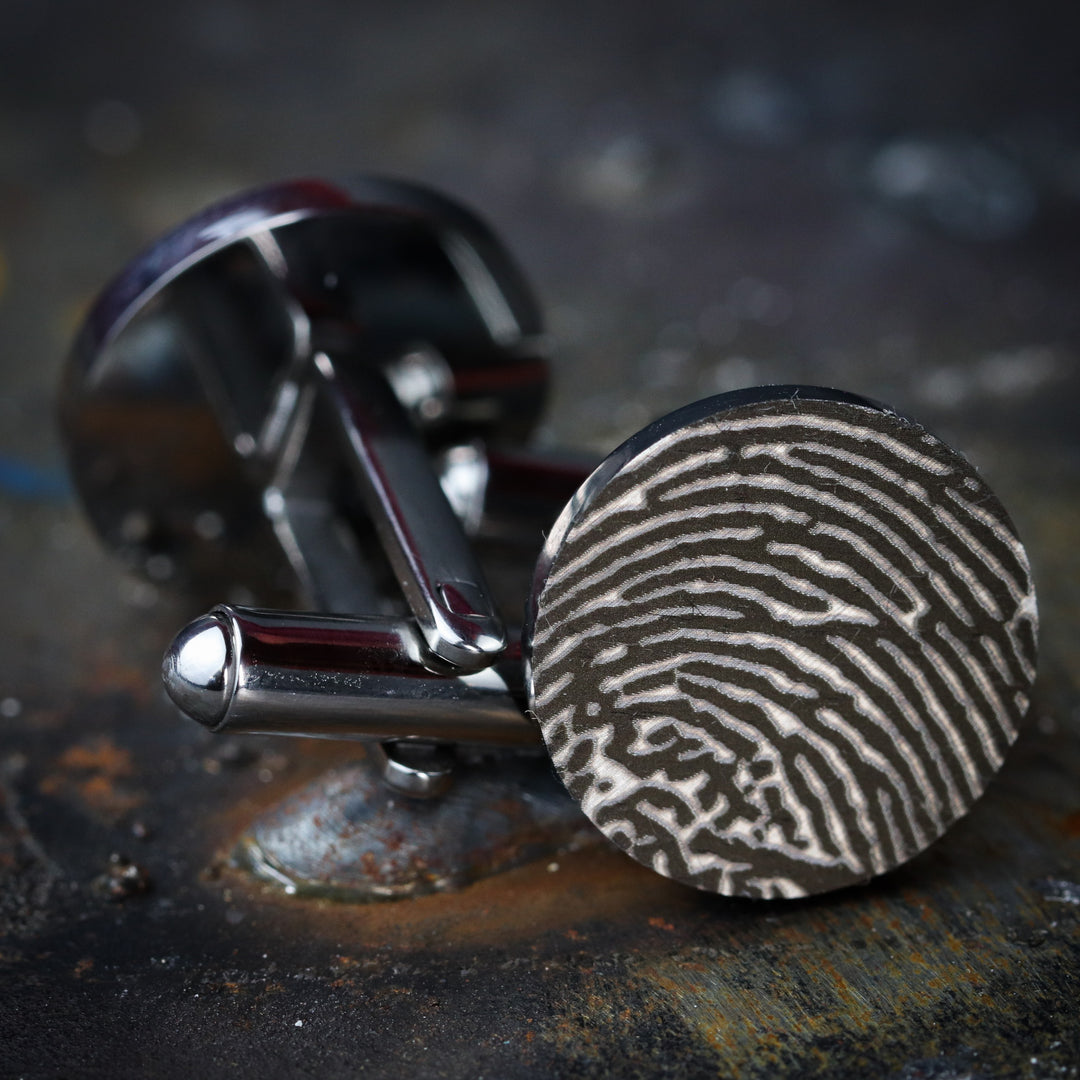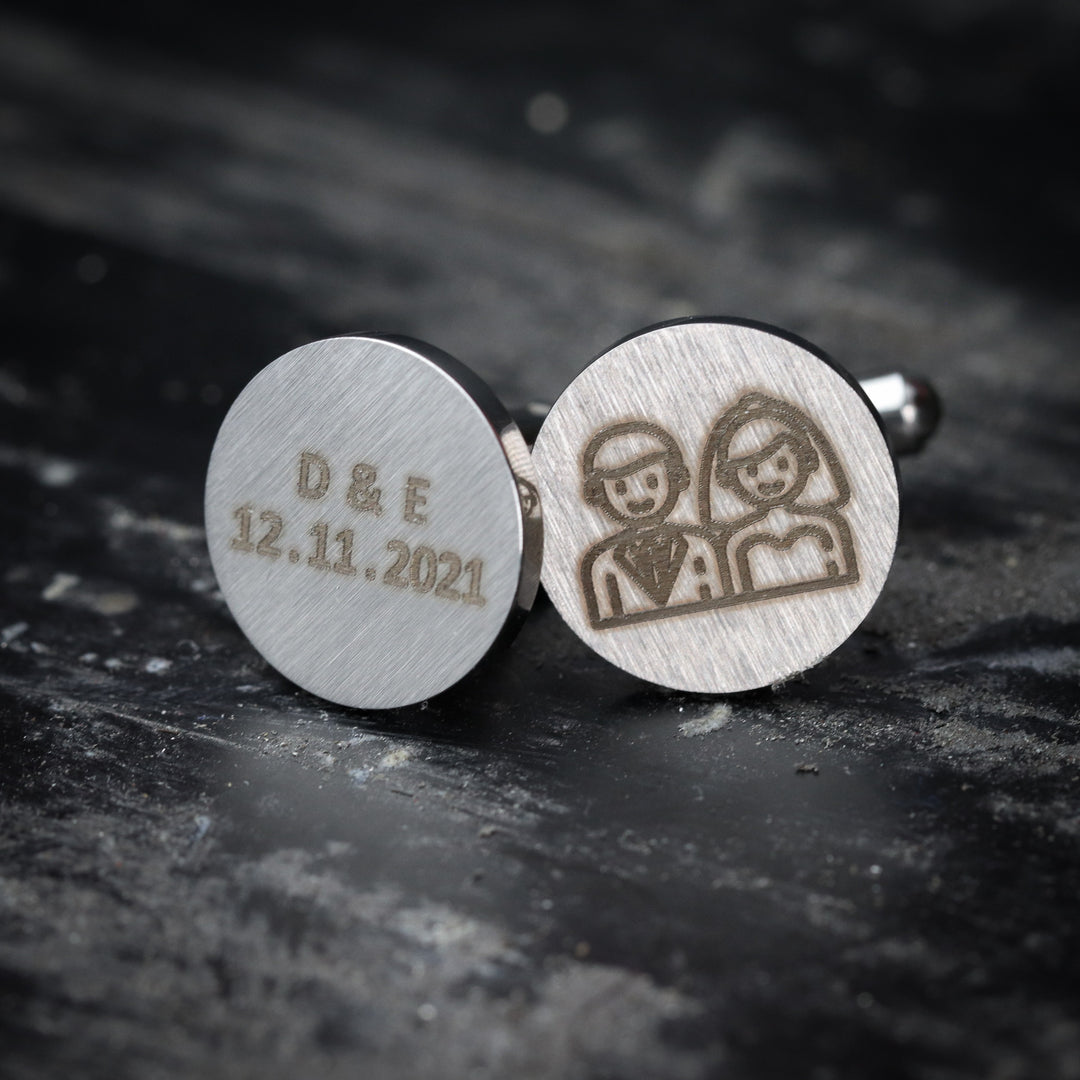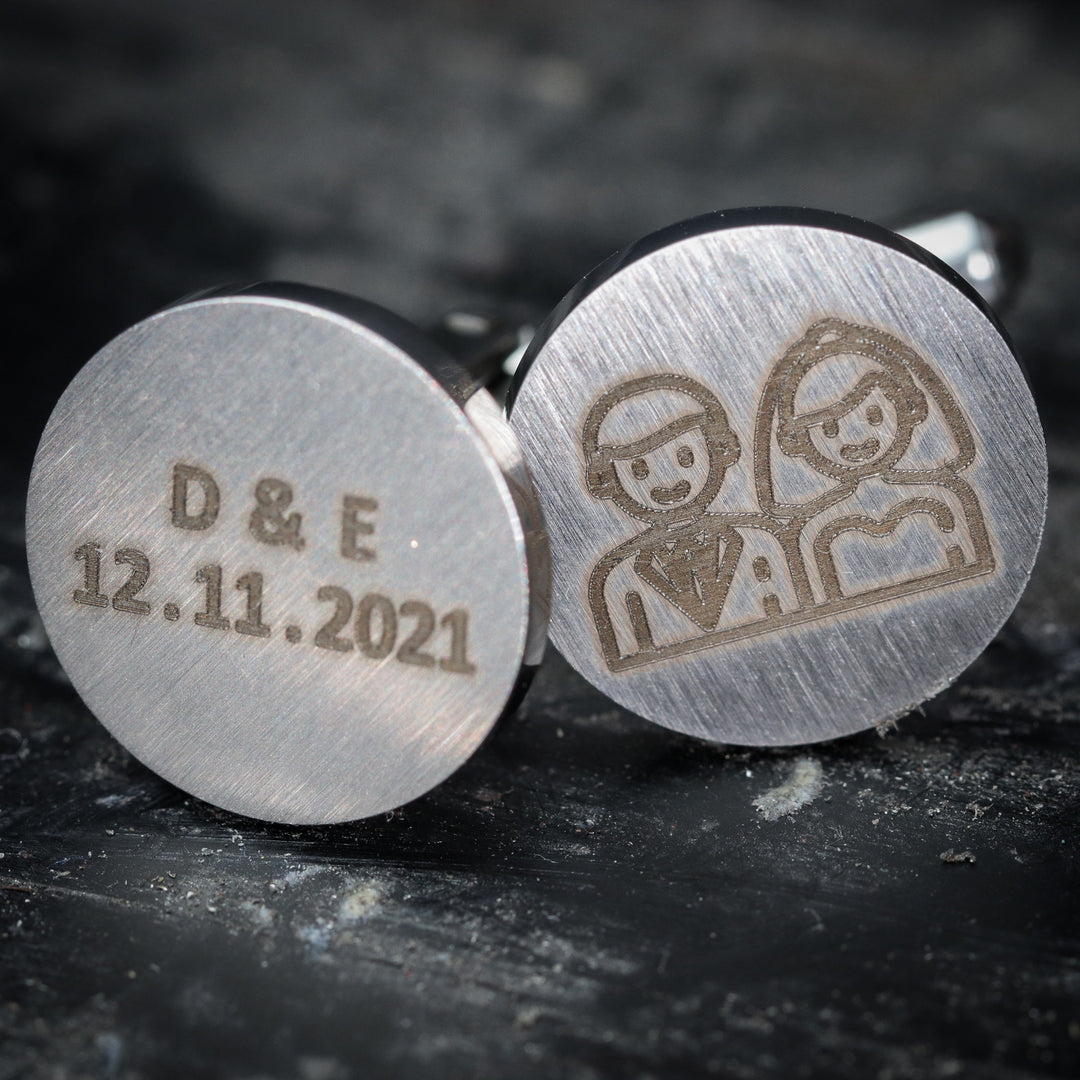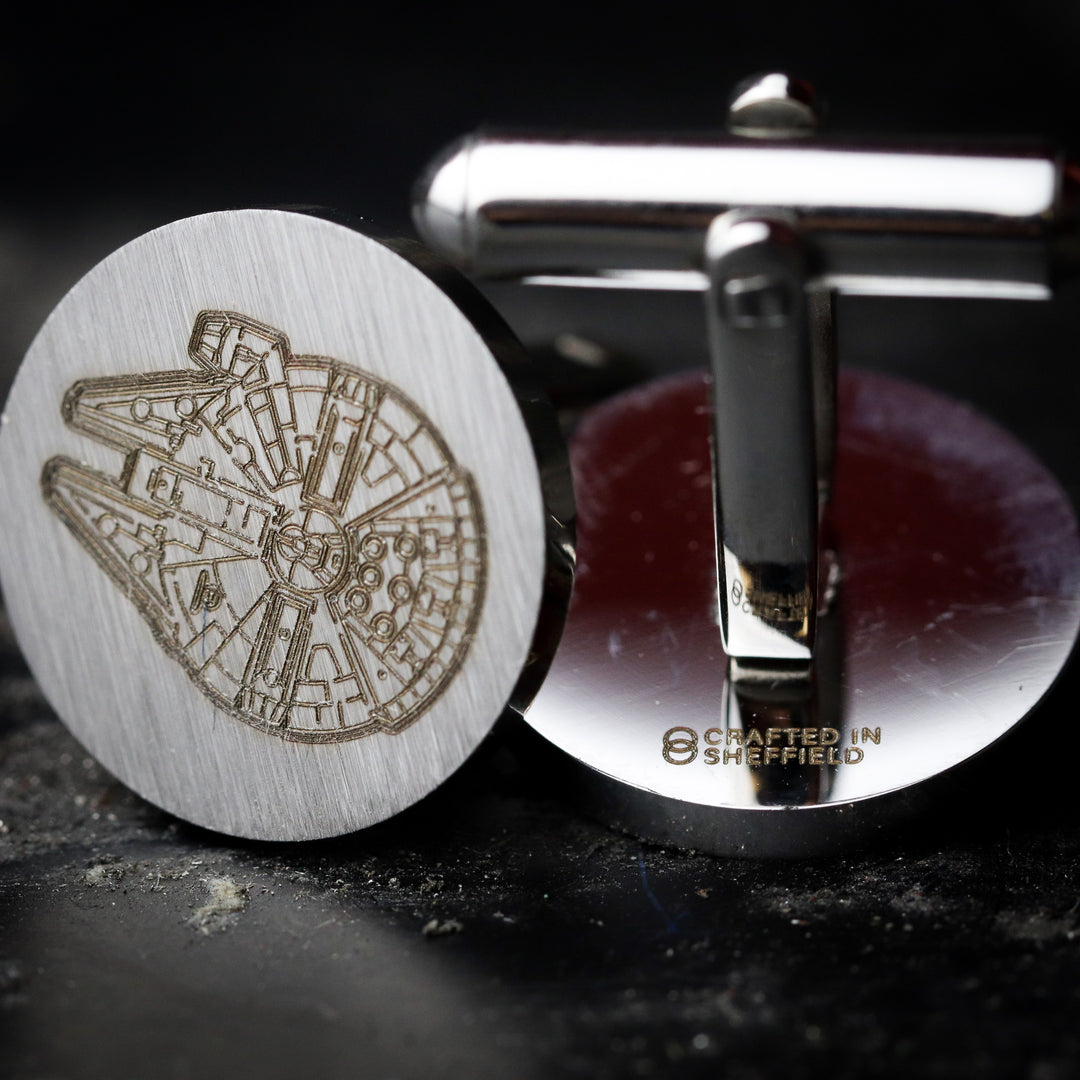 Personalised Stainless Steel Cufflinks
Regular price
£85.00
/
Tax included.
Shipping
calculated at checkout.

Please allow approx. 2-3 weeks for delivery. Made-to-Order and Tantalum designs can take up to 8 weeks for delivery. If you have a deadline please get in touch before ordering.
We've had some trouble with our normal box supplies so your ring box might look a bit different to what is pictured.
Our Stainless Steel Cufflinks can now be personalised! Choose a symbol, logo, date, fingerprint or even an emoji! Whatever you can imagine, our expert laser engravers can engrave it for you. Our cufflinks are made from polished Stainless Steel with a brushed face to make your custom engravings stand out!
Since their creation, cufflinks have been worn as a status symbol and to add a personal touch to formal wear. Nowadays, they make perfect gifts for weddings, groomsmen, for graduations or for birthday celebrations!
HOW TO ORDER
1. Choose what you'd like engraving on the face or each cufflink and on the back. We engrave our 'CRAFTED IN SHEFFIELD' mark on the back as standard, but this can be customised. 
2. Tell us the engraving in the product options. If you want a different engraving on each cufflink, we charge an extra £10. Send your images to us via email, or if it's something simple and you'd like us to give you a couple of options, let us know via email. 
3. Order and drop us a note or email (info@flinnandsteel.co.uk) if you want to discuss in more detail before we process your order. Done!
We make our Flinn & Steel Rings in UK sizes from F to Z+3. Please refer to the size choices above to see what sizes this product is available in.
Not sure of your ring size? Select "Send me a ring sizer*" in the ring size field below. Pick your metal, width and enter your engraving info and then checkout. After you have checked out, we will pause your order, send you a ring sizer and then re-start your order when we have heard from you.
For advice on ring sizes, read our guide here.
Due to the strength of the metals, our rings cannot be resized, so please take care when choosing your ring size. We are not liable if you purchase a made-to-order or engraved ring and have opted for the wrong ring size.
*Please note that if your shipping address is outside of the UK, free ring sizers are subject to standard shipping rates. If you have chosen 'Send me a ring sizer' as part of your order, we will contact you to arrange payment for shipping your ring sizer (the ring sizer will still be free!)
We offer a wide range of metals in various ring designs, including Tantalum, Titanium, Stainless Steel, Tungsten, Black Zirconium, Super Titanium, Damascus Steel and Mixed and Precious Metals.
Please see our Metal Guides for more information on each of our metals! Or click here for our Ultimate Flinn & Steel Ring Guide.
Please note - although the metals we use are much stronger than gold or platinum, they are still susceptible to scratches and knocks. From the day your ring goes on your finger, it may show signs of wear.
Due to the strength of the metals, our rings cannot be resized, so please take care when choosing your ring size. We are not liable if you purchase a made-to-order or engraved ring and have opted for the wrong ring size.
Each Flinn & Steel Ring is engraved with our 'Crafted in Sheffield' mark.
If you'd like to add an additional personal engraving (up to a maximum of 30 characters including spaces) please type exactly what you want in the Engraving box. Please be careful to type in Capitals or Lowercase as you wish the engraving to appear.
The laser engraving on the inside of your ring adds about 1 week to the delivery time.
You could write a special message, nicknames, the date of your wedding or your initials, for example. We engrave our rings with a nice, clean, simple font such as Helvetica. If you'd like a symbol or want to discuss options, please leave a message in the order notes or drop us an email via our contact us page.
If you choose 'Please send my ring without engraving and I will return it for engraving when I know the fit is right!' please note that you will be responsible for the postage to return the ring to us.
Check out our Engraving Gallery for inspo!
All orders are processed within 2-3 business days, Monday - Friday.
Our lead times are between 1-12 weeks depending on your chosen ring design and metal. Please see product pages for specific lead time information.
Please allow an extra week for a personalised engraving.
Our Royal Mail Tracked 48 UK delivery is always FREE of charge. If you would like to upgrade to Special Delivery you can select this option at checkout. Our European delivery is £14.99 and its £19.99 to the rest of the world.
**Please note - if you have chosen EU or Rest of World delivery, your order may be subject to further customs/duty charges**
For more information click here.
If the item you have purchased is not personalised to your requirements you can return the item to us within 14 days. Please also ensure to include your free Sidekick ring with your returned items or you may be charged for it.
Goods that are personalised, made to order, made to your size or engraved to your specific requirements are custom orders, which means that the item will be made, personalised or customised especially for you; because of this, these pieces of jewellery cannot be exchanged or returned under any circumstances.
We offer one complimentary exchange within 14 days of delivery of your item, eligible on items that are not personalised (including engraving) or made to order. For more information please visit our FAQs page.
The only exception to this would be if upon receiving the item a fault is present please contact us within a 14 day period. For more information click here.
Gift Cards are valid for 12 months from the date of purchase. Cash alternatives for gift cards are unavailable on any full or partial balance. However, any remaining balance can be gifted.
We cannot offer any warranty on our gift items (cufflinks, hipflasks or multi-tool knives), and will not be held liable for any accident or injury when using or handling the multi-tool knife. Use of the tools is completely at your own risk, so try not to cut yer sen'!