What Ring Size Am I? Are Ring Sizes Universal? And All Your Other Burning Ring Sizing Questions Finally Answered
Selecting the perfect ring size can feel like navigating a maze, leaving you with more questions than when you started. How do you measure your ring size accurately? Is there a trusty ring size chart to rely on? And are ring sizes unisex? Fear not; we're here to guide you through this sizing adventure. So, sit back, relax, and get ready for some ring sizing wisdom.

How do uk ring sizes work?
Let's start with the basics. If you're completely new to the world of rings and sizing, you're probably wondering how it all works. Well, in the UK, it's all about measuring the inner circumference of a ring and matching that measurement to a letter of the alphabet. Easy peasy, right? To make things even simpler, we've cooked up a straightforward ring size chart to help you pinpoint your perfect fit. Now, let's chat about the various ways you can go about measuring your ring size.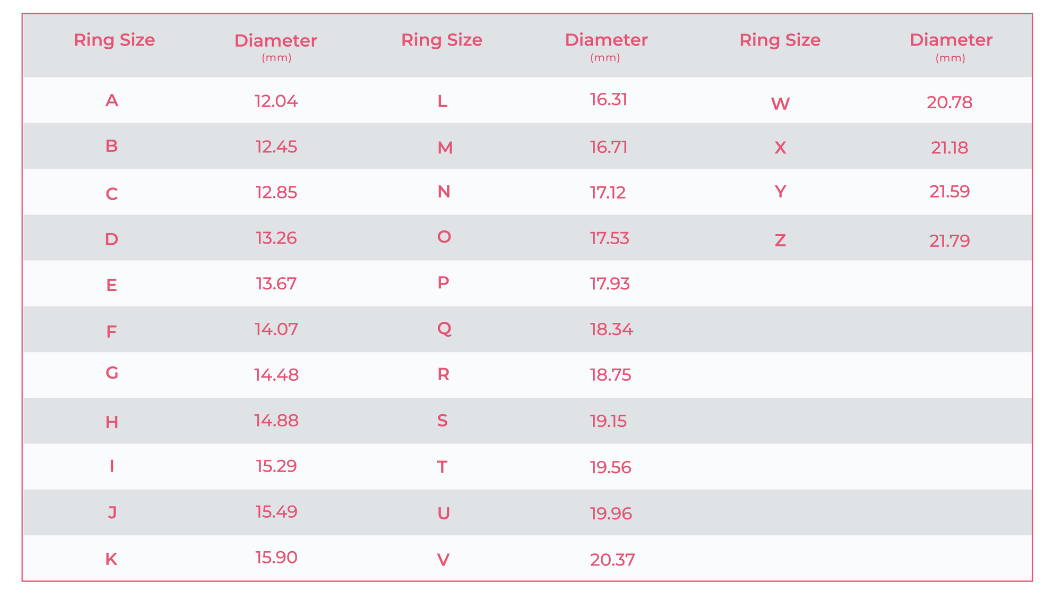 How do i use a ring sizer? And where can i buy one?
When it comes to measuring your ring size with pinpoint precision, the ultimate tool of choice is a dedicated ring-measurement tool.

Using our ring sizers is a piece of cake – simply slip a couple of them onto your finger, just like you would with a regular ring, and check out the size indicated on each one and determine which one fits the best. We also want to remind our customers that if you're choosing a ring with a thicker width that your ring size could change, that's why we offer exchanges (within 14 days of ordering) on online purchases.
Now, here's another tip: your finger size can be a bit of a shape-shifter throughout the day. Blame it on temperature, hydration, hormones – you name it. So, to nail that perfect fit, we suggest giving it a few tries and finding the size that feels the most comfortable for you.
At Flinn and Steel, we offer two fantastic ring sizers that will make your ring sizing journey oh so easy!

Now, you might be wondering what the difference is between these two sizers. Well, it's pretty straightforward. One covers sizes A to Z, while the other extends to sizes A to Z+6. The A to Z+6 sizer is made of plastic, but is on par with its metal counterpart. So, whether you go for A to Z or A to Z+6, you're in good hands.

Are ring sizes universal? And are ring sizes unisex?
If you've been digging into the ring size game, you might be scratching your head about whether UK ring sizes match up with those across the pond in the US or over in Europe. Well, the short answer is, not quite. But hey, no need to break a sweat! We've whipped up this handy-nifty conversion chart, so you can decode your ring size no matter where you are on the globe. But remember, while this is definitely a useful tool, sizes might differ slightly so we always recommend trying a couple of ring sizes on.
Also, when it comes to ring sizes, there's no gender divide here. Ring sizes are unisex, so whatever your gender identity, don't worry about having to convert sizes.
ring size conversion chart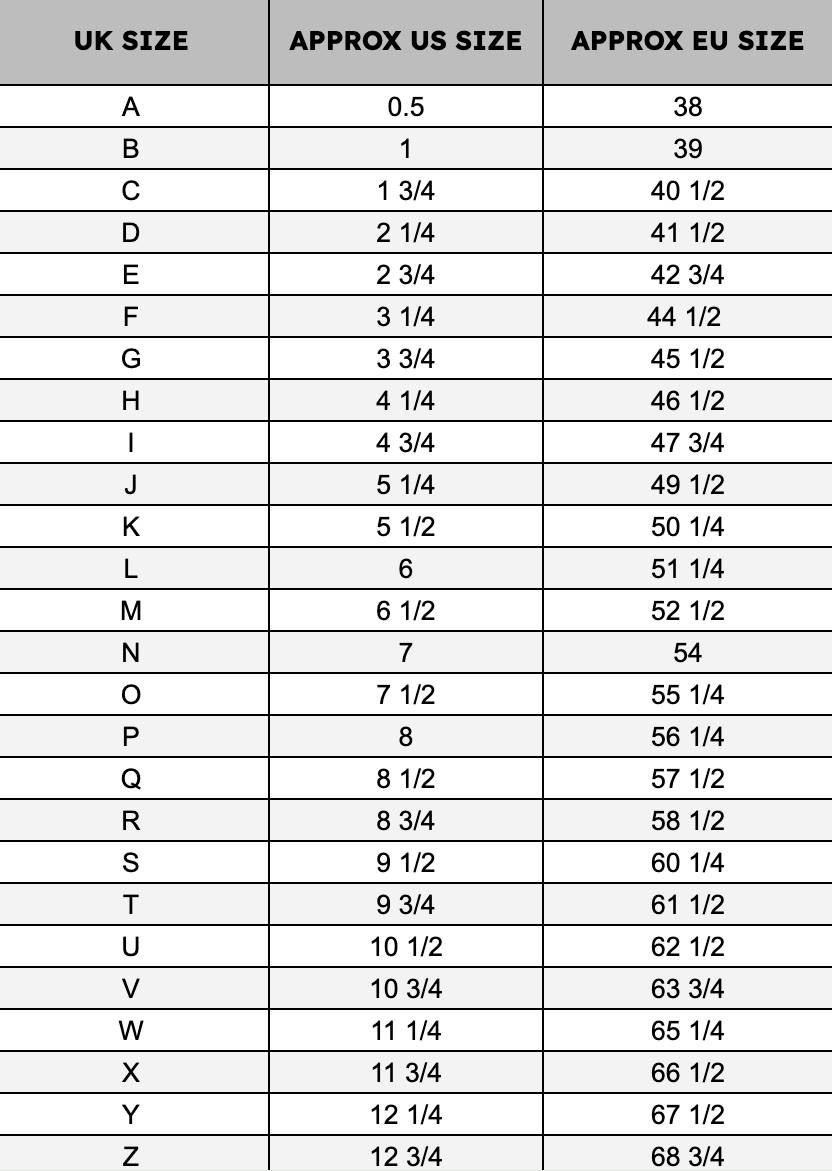 can the size of my ring be increased or decreased?
Many jewellery companies offer ring resizing if your piece doesn't fit for whatever reason. At Flinn and Steel however, we don't offer this service, as the types of metals and some of the finishes we use in this crafting process don't allow for alteration in the same way as most precious metals. As long as you follow our ring sizing tips then you shouldn't have a problem with the size of your piece, but our helpful
Sales and Design Team
is always on hand to answer any questions you might have.
If you're still feeling wary then we would love to welcome you to our showroom where one of our ring sizing experts will be on hand to help you find your perfect ring.
RING SIZING 'DO'S' AND 'DON'T'S FROM THE FLINN AND STEEL TEAM
Remember, your fingers fluctuate ALL the time, so when you're measuring your finger go for a happy medium - it's an art not a science.
Keep in mind that just like your waistline, your finger size will change over your lifetime - if you do need to replace your ring then you can always keep the original one on a chain, and use this as an opportunity to choose a different style or metal.
Bear in mind, if you're choosing to go on a fitness or healthy eating kick before the wedding, wait until you're at your goal to have your fingers sized - your fingers will lose weight too!
Measure your ring size in extreme weather conditions like very high or low temperatures as the size of your finger will fluctuate.
Measure your ring size with another jeweller if you're planning on getting your ring from us as they might use a slightly different method of ring sizing and your Flinn and Steel might not fit right!
Measure before or during a pregnancy, it's very unlikely to be the same as when you're not pregnant as fingers tend to swell with pregnancy.
Measure before or after an operation or injury, medications and trauma can effect the size of your finger so it's always a good idea to wait until you're fully healed to measure your ring size.